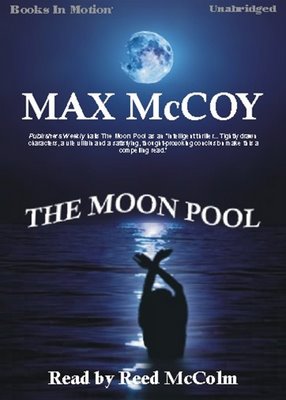 It was a week for surprises.
THE MOON POOL, my 2004 thriller from Leisure, has just been released as an 11-hour unabridged book on tape by Books In Motion. I know, because it's on their website under "Just in."
So, for $57.95 you can buy the CD Library Package. Or, you can rent it for $9.95 or own it as an MP3 download for $14.95. Also, I can't resist the urge to point out that you could have owned the original paperback for seven bucks. But then, you wouldn't be able to listen to it in the car, would you?
As I've lamented before, the author is always the last to know. Seems like some money should have shown up at my door in connection with this. Guess I'll make some calls.
At least the cover is cool.