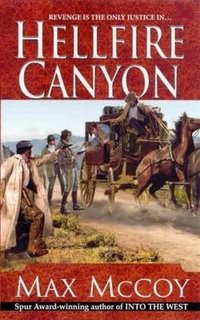 I was notified today that I've won the Spur Award from the Western Writers of America for best original mass-market paperback novel. The award will be given at the WWA convention in June at Scottsdale, Arizona.

The award is for a novel published in 2007 by Pinnacle (an imprint of Kensington Books) called

Hellfire Canyon

-- a title I'm not fond of, by the way. My original was

Murder

Rock

. It's the first-person story of 13-year-old outlaw Jacob Gamble, who joins ALf Bolin's band of killers in Taney County, Missouri, during the Civil War. It's an unusual western in that it is an adult novel about a teen-ager, features an unreliable narrator, makes liberal use of footnotes, and in that ALf Bolin was a real-life serial killer.

Here's what the reviewer at Gravetapping Blog said last year:

"

Hellfire Canyon

is not the typical. There is violence and even gun
play, but there is more—a yearning and understanding of history,
legend, and even folklore. Gamble is an admitted liar, killer and
thief, but he—the story is written in first person—portrays himself never as a victim, but as a survivor."

For some background on the award, this is from WWA:

"The Spur Awards, given annually for distinguished writing about the American West, are among the oldest and most prestigious in American literature. In 1953, when the awards were established by WWA, western fiction was a staple of American publishing. At the time awards were given to the best western novel, best historical novel, best juvenile, and best short story.

Since then the awards have been broadened to include other types of writing about the West. Today, Spurs are offered for the best western novel (short novel), best novel of the west (long novel), best original paperback novel, best short story, best short nonfiction. Also, best contemporary nonfiction, best biography, best history, best juvenile fiction and nonfiction, best TV or motion picture drama, best TV or motion picture documentary, and best first novel (called The Medicine Pipe Bearer's Award).

Winners of the Spur Awards in previous years include Larry McMurtry for Lonesome Dove, Michael Blake for Dances With Wolves, Glendon Swarthout for The Shootist, and Tony Hillerman for Skinwalker."