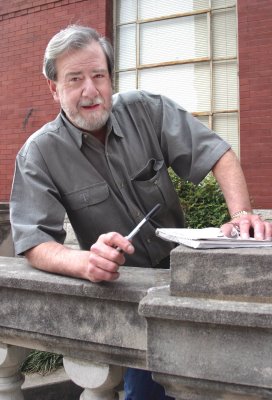 Earlier this year, I was asked by

Mother Jones

magazine for permission to use a photo of investigative reporter J.D. Cash that I had taken back in 2004 at the state trial for Oklahoma City bomber Terry Nichols. Never heard back from the magazine after transmitting the photos, but found online that they story had run in last month's edition of the magazine.

I read the story and was shocked to learn that Cash had died in May. Fuck. This is not the kind of entry I envisioned when I began this blog.

The photo abovet was taken March 22, 2004, outside the courthouse at

McAlester

. I covered the trial for the British magazine,

Fortean

Times, in a story called "White Noise."Cash -- who wrote investigative stories for the tiny

McCurtain

Gazette -- was featured in the article. He had gained notoriety by questioning whether Nichols and Timothy McVeigh had acted alone, or whether a group called the Aryan Republican Army was also involved. I had also done some original reporting on the ARA, and they kept a

safehouse

at my longtime hometown of

Pittsburg

, Kansas.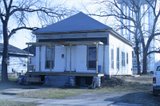 The

Pittsburg

safehouse

is at left, in a photo I took in February 2004. The ARA robbed at least 22 banks across the Midwest and were the poster children for white supremacist

nutjobs

- they were attempting to finance an all-out race war. The gang was led by boyhood friends Pete

Langan

and Richard Guthrie. Timothy McVeigh, who was executed for the

OKC

bombing, may have

beena

wheel man for the gang. When

Langan

was outed as a cross-dressing

transexual

, the gang fell apart. Guthrie and

Langan

were caught by the feds in 1996; Guthrie committed suicide in prison and

Langan

is now serving his time at the

Supermax

prison at Florence, Colorado.

Cash dieda couple of days after the

Greensburg

tornado, so I was otherwise occupied. But I still feel badly that he died and I didn't know about his passing. He was a terrific guy, and in addition to writing for the Gazette, he also did a local program, and he had me on as a guest a time or two promoting some book or another. Probably

The Moon Pool.



Here's what the Associated Press ran on his death:

Published: May 07, 2007 4:55 PM ET
TULSA, Okla.
(AP) Newspaper reporter J.D. Cash of the

McCurtain

Daily Gazette has died at age 55. Cash died at a Tulsa hospital Sunday following after suffering from liver disease and pneumonia.
Cash had spent the past 12 years reporting on the Oklahoma City bombing, including a report from a woman who said she was an undercover agent who warned the government of plans to bomb federal buildings in 1995.
He's survived by his mother.
A private funeral service is planned in Tulsa.


Cash did not have a journalistic background. He came to reporting for one story, and one story only: the Oklahoma City bombing. He did it better than anybody else, he did it for a newspaper with a circulation so small that most journalists cited it with a chuckle, and he came closer to the truth than anybody else. Damn.

And come to think of it,

Mother Jones

never paid me for the photo. But maybe they didn't use it. Also, J.D. never told me he was sick. But then, as tough as he was, he wouldn't. But I'm glad to have known him, and glad to have taken a photo that tells his story -- outside a courthouse, notebook and pen in hand.