Not a shot was fired when I addressed a near-capacity crowd in the auditorium of the Lawrence Public Library last night.
Of course, I really wasn't worried, despite the spirited online discussion on the Lawrence Journal-World website following their story about my attempts to "humanize" William Clarke Quantrill, who burned Lawrence 145 years ago this month. A few posters, apparently angry that I had attempted to portray Quantrill as a human being in my novel rather than a monster, had threatened (anonymously, of course) to teach me a lesson during my visit to Lawrence.
Alas, none showed up. I was all prepared to give my "American Bosnia" lecture about the Civil War on the Border.
Instead, I got an enthusiastic and particularly well-behaved crowd who listened to me talk about my work for over an hour, then asked terrific questions. That was followed by a book signing hosted by The Raven Book Store, a Lawrence institution and a particularly good place to find a mystery novel or works of regional interest. It was a pleasure to meet Lisa and Heidi, the new owners of the shop, and I hope someday in the not-too-distant future I can bring my characters Richard Dahlgren (THE MOON POOL) or Andy Kelsey (HINTERLAND) back in new adventures so I can have signings there.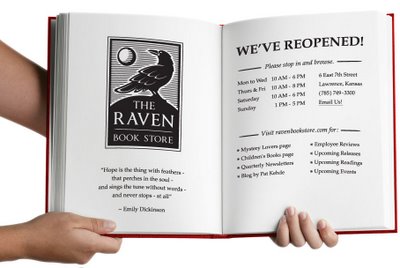 I have always believed that public libraries are a vital part of the cultural and intellectual life of any community, and I was grateful for such a good turnout in Lawrence. Thanks are particularly due to library liason Maria, who organized the event and made sure the word got out. Terry Rombeck's story in the Journal-World lead the arts section, and was teased above the flag on 1A. The appearance was part of Civil War on the Western Frontier, which goes through Aug. 21, the anniversary of the raid.
I'll be be back in Lawrence on Saturday, Sept. 21, for the
River City Reading Festival
. A partial list of other authors slated to appear are Thomas Frank, Michael L. Johnson, Candice Millard, Scott Heim, Scott Phillips, Steven Hind, Jim Hoy, Kevin Rabas, and Denise Low.