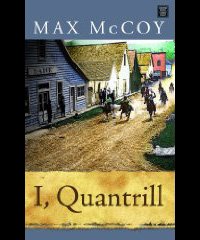 Those quirky free staters will get another shot at me this weekend, when I appear at the second annual River City Reading Festival. At about 10 in the morning, I'll be reading an excerpt from I, QUANTRILL, just in case there are any Lawrence residents who aren't pissed off yet.
The novel, which is a first-person narrative of the final weeks of the notorious guerrilla chieftain William Clarke Quantrill, inflamed the editorial board of the
Lawrence Journal-World
. Why, they asked a bit snarkily, should they care if Quantrill had a difficult relationship with his mother?
Well, it probably contributed to Quantrill's decision to burn Lawrence to the ground in 1863... But, you have to give the Lawrence paper credit. They are quick to step up and bravely challenge a foe that's been dead for 143 years.
Seriously, I've heard from many Lawrentians who say they get that the book is a work of fiction. They say that anybody who reads the novel realizes that while Quantrill is portrayed as a human being, he isn't a hero.
To form your own opinion, please read the damned book.