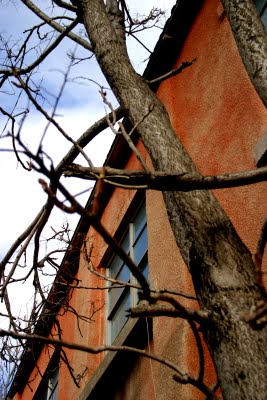 Here's the front of the old territorial prison at Guthrie, on the northeast corner of Second and Noble. This was the place that Bill Doolin escaped from in 1896 -- and which plays a central role in my new novel, DAMNATION ROAD. Underneath that pink stucco, which was added after the local Methodists bought the building for a church in 1924, is native red sandstone. About where you see the window in this photo was the main entrance to the jail, an iron cage attached to the outside of the building that was reached by a flight of steep iron steps. In some of the literature, you see this referred to as the "black jail" of Guthrie, but that was an earlier county jail, which was built from black strap iron. After the Methodists purchased the building, they added the stucco, a peaked roof, and a church-like addition on the east end to make it appear less like a fortress. After it was abandoned by the Methodists, it was home to the Samaritan Foundation, a religious cult, until 1995. The building has been declared unsafe and is closed to the public, although there is an restoration movement planned, according to a sign on the corner of the building. The jail, as you might expect, is reported to be haunted.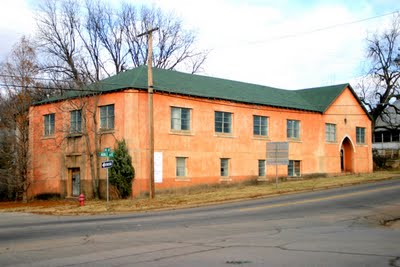 Wide shot
Here's a shot of the entire building. The old entrance is on the left (west) side of this photo, facing west. The original prison building did not have a green peaked roof, nor did it have the church-like addition on the east side.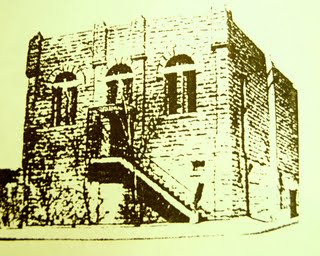 Original building


Here's what the territorial jail originally looked like in the 1890s, from a photo in the Oklahoma Historical Society Archives. Look closely and you can see the steps leading up to the iron cage and main entrance on the second floor.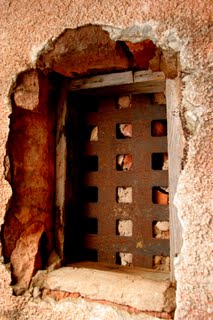 One last shot

Here's a tiny barred window that is on the ground floor of the prison, visible on the old photo just above the bottom of the steps. This was a special cell sometimes used for female prisoners, usually prostitutes, if I'm reading my sources correctly.

Did I encounter any ghosts while visiting the old territorial prison? Well, no. But there was a decidedly weird and malevolent vibe to the place -- but maybe that's just because I knew a little history. Oh, and what happened to Bill Doolin, the famous Oklahoma Territory outlaw who famously broke out in 1896? I'll save that story for my next post...