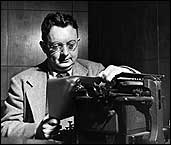 The Nieman Foundation at Harvard has created the I.F. Stone Award to honor journalistic independence.
"The I.F. Stone Medal will be presented annuall to a journalist whose work captures the spirit of independence, integrity, courage and indefatigability that characterized I.F. Stone's Weekly, published 1953 - 1971," the foundation said this today in a press release. "Each year, the winner of the award will deliver a speech about his or how own experience with journalistic independence, to be followed by a workshop on the same topic."
So, who was I.F. Stone?
Well, the initials stand for Isidor Feinstein, his birth name. He added the Stone later. He was a muckraker who self-published his weekly newsletter and he died in 1989, at the age of 81. He was a left-leaning investigative reporter who taught himself Greek after retirement and wrote a book on the trial of Socrates. It's ironic that Harvard is honoring him, because for much of his life he was marginalized by the mainstream.
My favorite I.F. Stone quote?
"I am going to tell you a number of things, but if you really want to be a good journalist you only have to remember two words: governments lie."