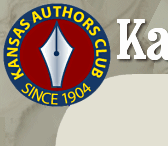 This Saturday, I'll be the keynote speaker at the Kansas Authors Club annual convention in Topeka.
I'm doing a workshop on The Hero's Journey at 3:30. At 6 p.m., I'm presenting the keynote, "The Seven Secrets of Writing Well." The conference is being held at the Capitol Plaza Hotel and Convention Center,
1717 SW Topeka Blvd.

Other speakers include Kansas Poet Laureat Denise Low; Thomas Fox Averill, who is writer-in-residence at Washburn University; and Mark Bouton, a mystery author and former FBI agent. There's also a flashlight tour of the state capitol on Friday night.