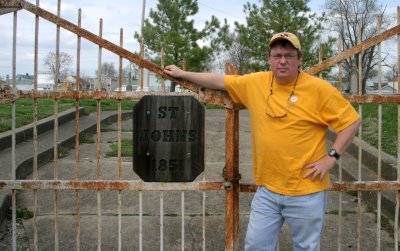 Here's me at the gate to St. John's Catholic Cemetery in the Portland neighborhood, where
Quantrill
was buried after he died June 6, 1865, in a Louisville hospital. At the time, the cemetery was known as St. Mary's. After being shot in the back, the guerrilla lingered for nearly a month, paralyzed from the chest down, before succumbing to his wounds.
Quantrill
had converted to Catholicism shortly before his death. According to the burial register provided by the Archdiocese of Louisville,
Quantrill
was buried here on June 7 -- along with four children whose first names are unrecorded. The grave is just inside the gate, to the left, in an unmarked grave in lot 624. This gate faces Duncan Street, but at the time of
Quantrill's
death, this was the location of the caretaker's house and the main entrance was off 26
th
Street, to the north. A newspaper editor and former childhood friend of
Quantrill's
from Canal Dover, Ohio, by the name of William Walter Scott had his bones (illegally) dug up in 1887. Scott sold some of the bones to the Kansas State Historical Society. The skull was later used in fraternity
initiation
rituals -- nicknamed "Jake" and with red Christmas lights glowing in the
eyesockets
. The skull was finally reburied on Oct. 30 (my birthday) in 1992 in the Fourth Street Cemetery at Dover. The bones from the Kansas historical society were buried a few days earlier at the Confederate Cemetery at
Higginsville
, Missouri, with military honors. That devil
Quantrill
is finally at rest. Expect
I,

Quantrill
sometime in 2008, as I've just delivered the manuscript and the production process takes six months to a year. I haven't seen the cover art yet, but I'll post it when I get it.